Add an income stream to your practice backed by one of the hottest trends in alternative health therapy to date...
"It worked like a charm. From that point on, I found ways to integrate the machine into my practice of nutrition and lymphatic massage." - Dr. William Brown, PHD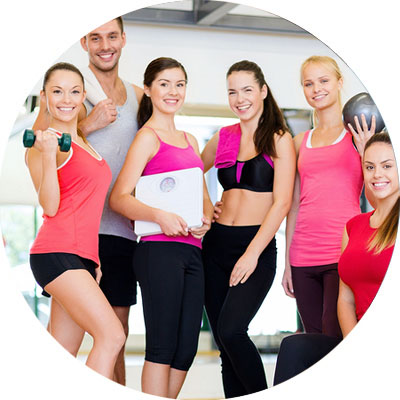 There is no question that the demand for infrared sauna treatment has gained tremendous popularity over the last few years thanks to advocates such as alternative health practitioners, naturopaths and celebrities. As a result, business owners such as these have benefited tremendously from adding infrared saunas to their practices:
Because of the staggering popularity of and interest in infrared saunas over the last several years, more and more people are trying to figure out ways that they can have the healing benefits of an infrared sauna at home at their convenience – without ever having to share an unsanitary closet-sized box with strangers anymore.
Alternative medicine and alternative therapies are currently a multibillion dollar industry and only getting stronger. Due to demand for healthier alternatives to what traditionally was only treated with pharmaceutical drugs and surgery, the health-conscious public are more open than ever to nontraditional therapies. As a result, people are migrating toward infrared sauna use since the health benefits of infrared rays are well documented and supported by much of the medical community.
Until now, having an infrared sauna installed at a facility or office has been cost and space prohibitive for most business owners. Add on the cost of permits, professional installation, as well as uninstalling a sauna if you needed to relocate your business and the costs can be staggering often taking years to recoup the investment.
That's why we are proud to provide the Super Sauna business plan and marketing support to all of our commercial clients at no cost. With our plan, business owners are able to begin promoting the Super Sauna's health benefits to their existing patients and clients immediately. In addition, our experienced staff provides marketing and collateral support so that you can see the return on your Super Sauna investment as quickly as possible.
---
Speak to a Sauna Advisor Now
---
See how quickly revenues add up by following our simple cost per session model: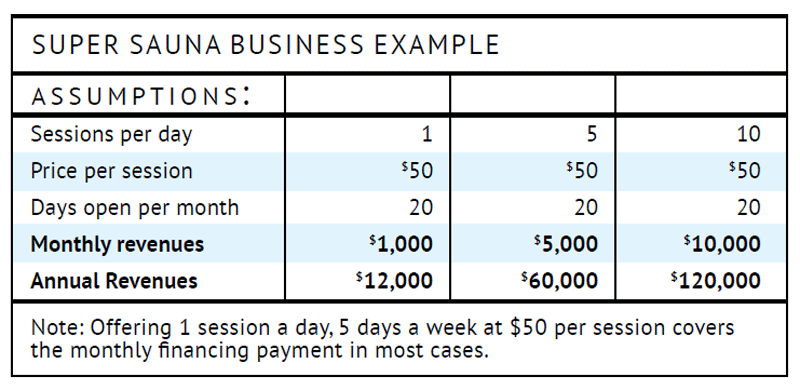 ---
Speak to a Sauna Advisor Now
---
Enhance your practice and instantly create a new revenue stream by offering your clients the healthy benefits of the most advanced infrared sauna technology in existence
Completely sanitary wipe-clean design
Unique plug-and-play design no assembly required
Indoor or outdoor use
Constructed of durable steel and aluminum
16 times more powerful than any existing sauna
Completely safe around children, pets and electronics
Revolutionary open design eliminates claustrophobia
Use and storage designed for convenience
Three customizable zones of infrared intensity
Roles away on casters for easy storage
Burns up to 600 calories in 30 minutes
Plug-and-play design - no assembly required
30 day money back guarantee
Find out how you can offer more to your clients and patients with the Super Sauna business and marketing plan.
Speak to a Super Sauna advisor today and ask about our convenient financing program.
---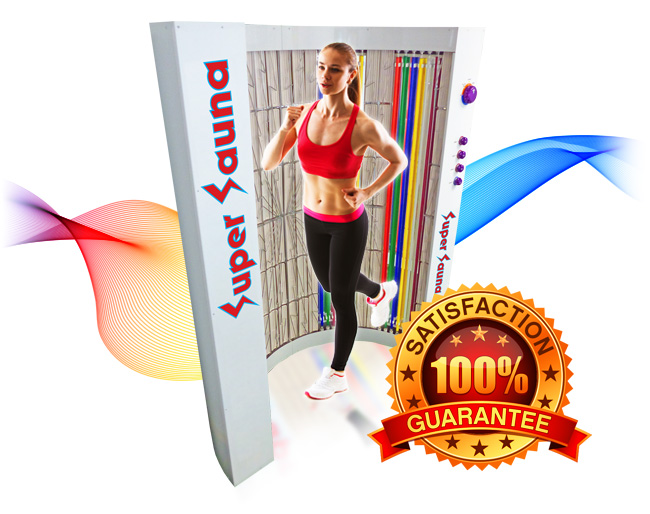 Our 30 Minute Guarantee
All it takes is half an hour in our Super Sauna and you'll be hooked. We're so confident that you'll love the countless health benefits of our sauna that if you don't absolutely love it after 30 minutes, simply send it back to us for a full refund, no questions asked. Of course if you decide to keep it you're covered by our 12 month quality guarantee.